If you love delving into the rich history of Britain's historic buildings, then we have a feeling you'll want to base yourself in St Mawes for your next Cornish holiday! This picturesque coastal village has a cluster of ancient buildings in and around it – all easily reached by foot, car, or ferry from your St Mawes holiday home.
This month we feature 5 of these remarkable landmarks. From castles to churches, and even a historic lighthouse – these Cornish marvels captivate all ages and make a splendid day out.
St Mawes Castle
Sitting proudly on the headland of the Roseland Peninsula, St Mawes Castle was constructed by Henry VIII over 400 years ago to defend the Fal Estuary from invasion. Built to stand the test of time, it's said to be one of 'the best-surviving examples of a Henrician artillery fort' and holds an astonishing history – used most recently in the two World Wars.
Now preserved by English Heritage, the castle and its beautiful grounds that stretch down to the Fal Estuary, are a must-see for anyone visiting St Mawes or Falmouth. Soak up sensational sea views from the top of the castle, wonder at the elaborate Tudor carvings, and take in the Latin inscriptions that pay homage to Henry VIII and his son Edward.
Break up the sightseeing with a coffee from Bear Cornwall – a delightful Citroen HY van that parks alongside the castle, selling hot and cold drinks, homemade cakes, and savoury snacks.
St Mawes castle can be reached by foot in under 15 minutes from High Bank holiday home or an easy 3-minute car journey. We must also mention that the castle can be accessed by sea on the foot ferry from Falmouth town – a perfectly fitting way to approach the castle, just as our seafaring ancestors and invaders did all those years ago.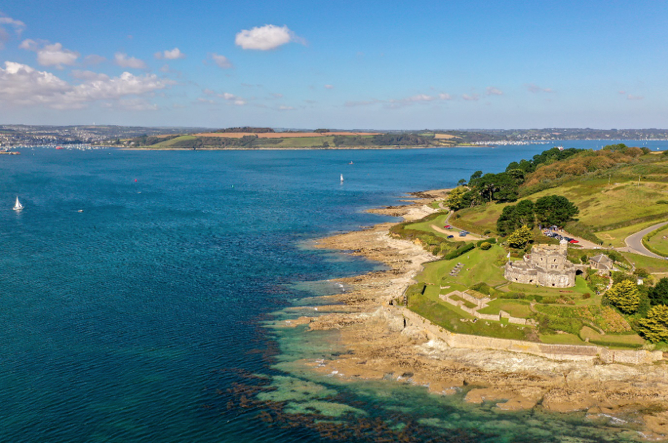 Pendennis Castle
Directly across the bay from St Mawes Castle, lies sister castle, Pendennis – another imposing Tudor fortress that dominates the headland 1-mile southeast of Falmouth.
Built over 500 years ago to protect the entrance of the River Fal, Pendennis Castle has panoramic sea views and looks out over Falmouth town and its local beaches.
Adults will enjoy a tour of the circular gun tower with its historic weaponry, whilst children will have masses of fun on the family fun trail and an energy-burning tumble in the castle-themed soft play area that's conveniently next to the café!
The quickest way to reach Pendennis is via the St Mawes-Falmouth Ferry which moors close to the castle. Alternatively, Pendennis can be accessed by road in approximately an hour, on a route that avoids the River Fal tributaries!
St Mawes Church
Nestled amongst pretty whitewashed cottages, St Mawes Church is a Grade II listed building that dates back to 1884. This much-loved village church is open 24/7 to visitors and welcomes everyone whether local or from afar.
Lying just off Marine Parade, between the Quay and the Castle, the church takes in stunning views of the sea, and light floods into its welcoming walls through vividly coloured stained-glass windows depicting stories from St Mawes' past.
Built in an Early English style from locally quarried stone and dressed with granite, the church also has a striking timber roof and simple Victorian-style furnishings. As a peaceful sanctuary, you'll notice an ever-lit sanctuary lamp – a symbol that this church's doors are always open.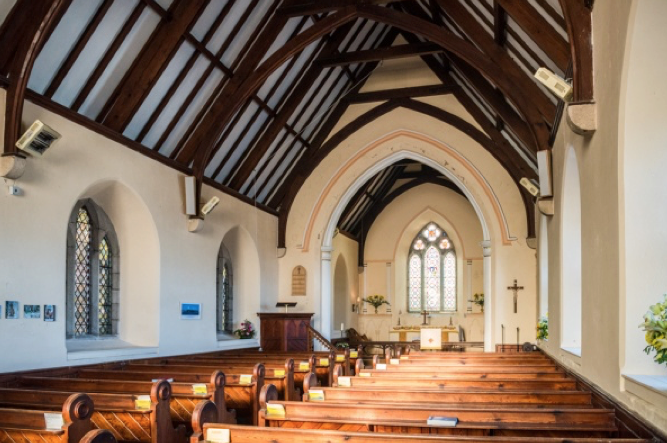 St Just in Roseland Church
Pick up the coast path from St Mawes and hug the edge of the river all the way to gorgeous St Just in Roseland. There you'll find the prettiest 13th-century church in a charming waterside setting. Its churchyard is the stuff of dreams – a true paradise of semi-tropical plants growing beside a peaceful tidal creek. As the seasons change, so do the flowers in the gardens – as the snowdrops, daffodils, bluebells, and hydrangeas take it in turn to bloom.
Think winding garden paths, the trickle of a stream running down to the creek, a scattering of boats, and the sound of wild bird song.
Keep your eyes peeled for the Holy Well and a path lined with granite stones – each carved with quotations and verses from the Bible.
The cherry on the cake is Miss V's Café which is found in the creekside gardens of the church. Open 7 days a week for breakfast, lunch, Cornish cream teas, and scrumptious cakes – this coffee hot spot uses local produce and makes seasonal menu changes to tempt us back again and again!
St Just in Roseland is 1.5 miles away from your St Mawes holiday home by road, and the coastal walk is a 6.1-mile circular route.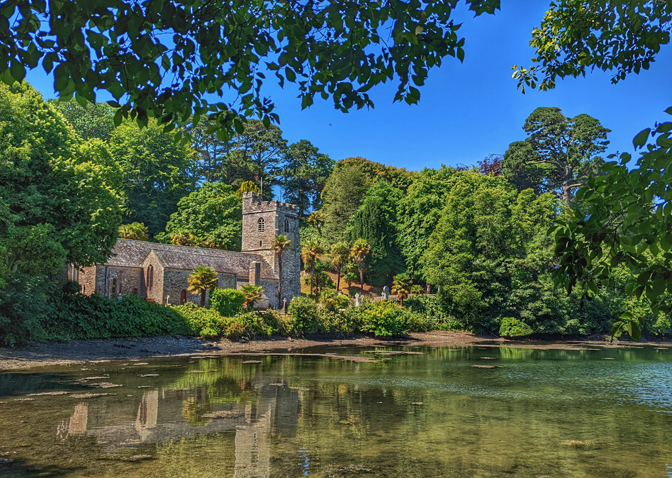 St Anthony's Lighthouse
Don't miss a visit to St Anthony Lighthouse – an impressive, 19m white octagonal tower that stands at the eastern entrance of Falmouth Harbour. Built in 1835 to safely guide vessels clear of danger, after more than 100 ships were wrecked on the treacherous Manacles Rocks that extend 1 nautical mile east and southeast (Manacles deriving from the Cornish word meaning 'church stones.')
Find out about the history of the building – see the old keeper's house and learn about the 8 original oil lamps that lit the way for boats, plus the huge fog bell that was eventually replaced with an automated fog horn!
Fun fact – children of the '80s may recognise the lighthouse from the opening credits of the TV programme 'Fraggle Rock!'
Although only a stone's throw from St Mawes, St Anthony Lighthouse is a 24-minute drive away, due to a route that avoids the Percuil River. And if you fancy putting on your walking boots, the lighthouse is approximately a 2.5-hour ramble away!
Browse availability at luxury St Mawes holiday home, High Bank, via the Cornish Keepers booking calendar.