5 Must-Visit Beaches Close to Your Cornish Keepers Holiday Home 
The charming coastal village of St Mawes is a haven for beach lovers seeking relaxation, natural beauty, and a touch of adventure. With 3 lovely beaches just a stone's throw from your holiday home and 2 further beaches a short drive away, it's a fantastic place to base yourself for unforgettable beach days!
Each of St Mawes' beaches has its own character, and whether you're looking for tranquillity, historical charm, or bustling energy, this seaside retreat has something for every kind of beach lover. So, without further delay, let's explore the beaches of St Mawes and The Roseland!
Summers Beach – A tranquil spot for a beach picnic
Arguably the best beach in St Mawes, Summers Beach is a sheltered, south-facing crescent-shaped beach of sand and shingle. When the tide goes out, the beach is great for games of cricket or rounders, and kids love discovering crabs and small fish in the many rock pools that are revealed at low tide.
Over the summer months, there is a pontoon that you can swim or kayak out to, or you can take it easy on the beach and soak up picture-perfect views of sailing boats and glistening waters – the choice is yours!
Summers Beach is accessed via steps and has a 'no dogs' policy in place from 1st July to 31st August, between the hours of 10 am and 6 pm.
Tavern Beach – A historical hideaway
Situated below renowned St Mawes Castle, built in the 16th century, Tavern Beach is steeped in history and makes a great stop-off on the way to or from the castle. This simple, pebble beach takes in stunning views of the estuary and if you look out to sea on the 18th of August you may spot a fleet of around 40 ships taking part in the prestigious Tall Ships Event. This starts in the host port of Falmouth, just across the water from St Mawes, and ends in A Coruna, Spain.
Like Summers Beach, there is a swimming pontoon for those who fancy a refreshing dip!
Tavern Beach can be reached via the ramp by Tresanton Hotel in St Mawes and does not allow dogs between Easter Day and 30th September.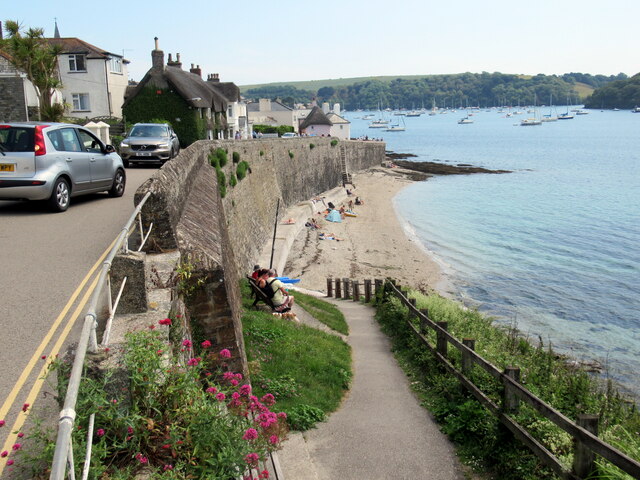 Harbour Beach – A vibrant beach in the heart of St Mawes
Harbour Beach lies right in the centre of St Mawes but is only an option at low tide. It's a great spot to watch local fishermen at work and benefits from having all the amenities of St Mawes in close proximity. You might like to treat yourself to an ice cream or take away Cornish pasty from one of the local shops or cafes and enjoy it on the beach. And when you've spent a few restful hours on the sand you can stroll into the pretty streets of St Mawes for a potter around the shops and perhaps an evening sundowner at one of the village pubs.
Harbour Beach is accessed by a steep, sloping path which is suitable for buggies and wheelchairs. Dog owners will be pleased to hear that the beach welcomes dogs year-round.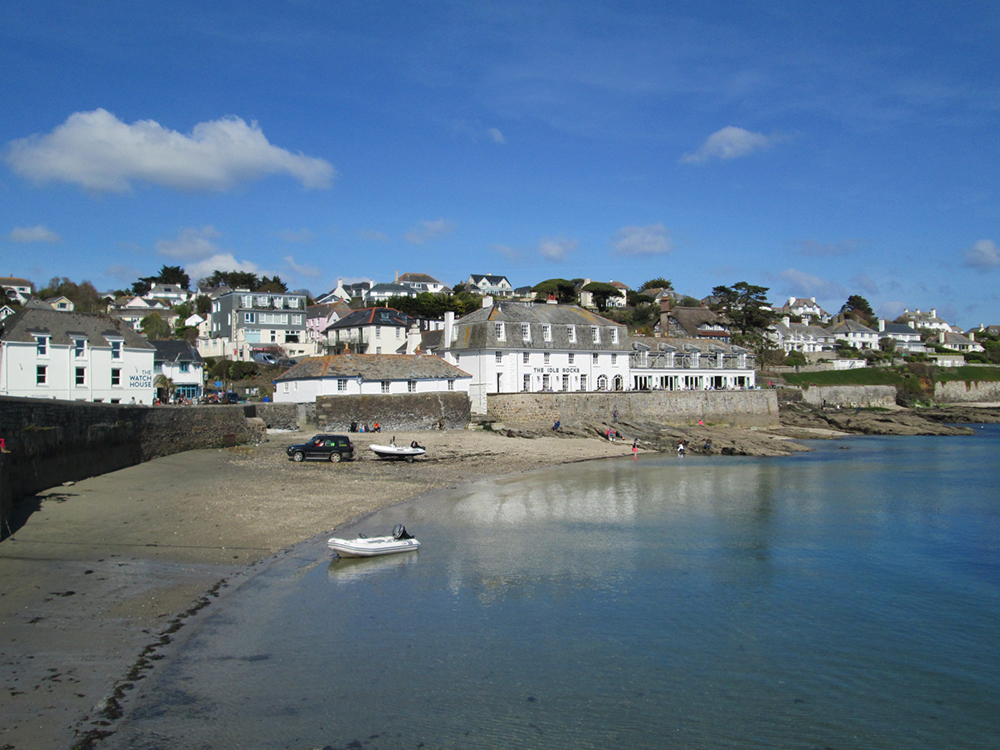 Porthcurnick Beach – A Roseland Peninsula gem
Owned by The National Trust, beautiful Porthcurnick Beach is located near Portscatho on the Roseland Peninsula and is a Blue Flag beach. It's a tranquil, sandy bay that's family-friendly and good for swimming and paddling, although there is no lifeguard cover.
The beach is backed by breathtaking cliffs and rolling hills which adds to the feeling of seclusion and the sense that you've escaped from it all! Even the rustic beach restaurant, The Hidden Hut, has a name that implies this place is top secret! Serving up utterly delicious gourmet food, this popular foodie favourite is something very special indeed.
Porthcurnick Beach is reached via a flight of steps and welcomes dogs year-round.
Porthbeor Beach – A beach of unspoilt beauty
For more adventurous souls, Porthbeor Beach can only be reached by foot! One of the Roseland's lesser-known beaches, this long sand and shingle stretch is quiet even in summertime. Nestled amidst rugged cliffs and surrounded by lush greenery, you'll need to don your hiking boots and head to Porthbeor via the Southwest Coast Path. There is a steep path leading down to the beach from the top of the cliff, but it's well worth the trek!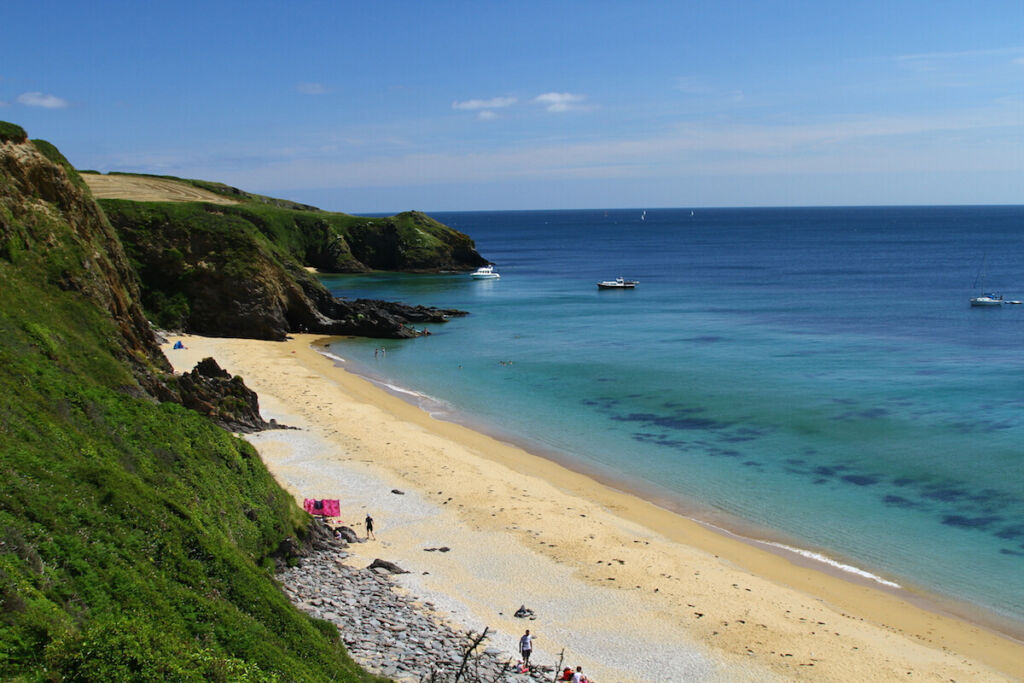 Dogs are allowed year-round at Porthbeor.
Whichever beach you choose, St Mawes promises many wonderful beach adventures and you'll come away with memories to last a lifetime.
Find your perfect St Mawes holiday home at Cornish Keepers and start packing your beach bag!