Blissful days out from your luxury holiday home in St Mawes
With a unique microclimate, south Cornwall enjoys some exceptionally warm temperatures, making it a prime location to grow sub-tropical plants – otherwise only grown in the southern hemisphere. Its balmy climes, moderated by the Atlantic Ocean's humid air, have led to the creation of several breathtaking open gardens that are rich in exotic flora.
We've hand-picked 4 of our favourite gardens in and around the St Mawes area – each overflowing with plants from across the world, and demonstrating stunning garden design. Highly recommended by Cornish Keepers for a day visit from your holiday home – these open gardens will delight all ages.
 Lamorran Gardens
Transport yourself to an exotic paradise at Lamorran Gardens. Situated on Upper Castle Road in St Mawes, these tranquil gardens are on a south-facing slope that's surrounded by the sea on 3 sides.
Blending the spirit of Mediterranean, Japanese, and English gardens, Lamorran takes you on a botanical journey that celebrates, in their words, "the beauty and diversity of foliage." As you explore the garden you will find areas of woodland, a Japanese-style water garden, a walled garden, a rose garden, a rock garden, and Italianate constructions inspired by the owners' travels to the Italian island of Ischia.
Featured in the BBC show, 'The Nations Favourite Gardens,' Lamorran has been designed around its sea views, with soul-stirring 'reveals' of the ocean. And with an unusual collection of trees, shrubs, and flowers ranging from yuccas, acers, and tree ferns – to classic fuscias, rhododendrons, and camellias, these gardens surprise and captivate all who visit.
Spring and summer see a rich display of colour, shape, and texture, and scent from the garden's citrus plants, jasmine, and roses fills the air. You'll also hear the gentle trickle of water from the many pools and streams that run through the gardens.
Open on Wednesdays, Thursdays, and Fridays up to the 29th of September, Lamorran Gardens are a must-see whilst on the Roseland Peninsula. And did we mention that there is a coffee shop called La Terrazza and a small shop selling a selection of plants grown in the garden? Heaven if you ask us!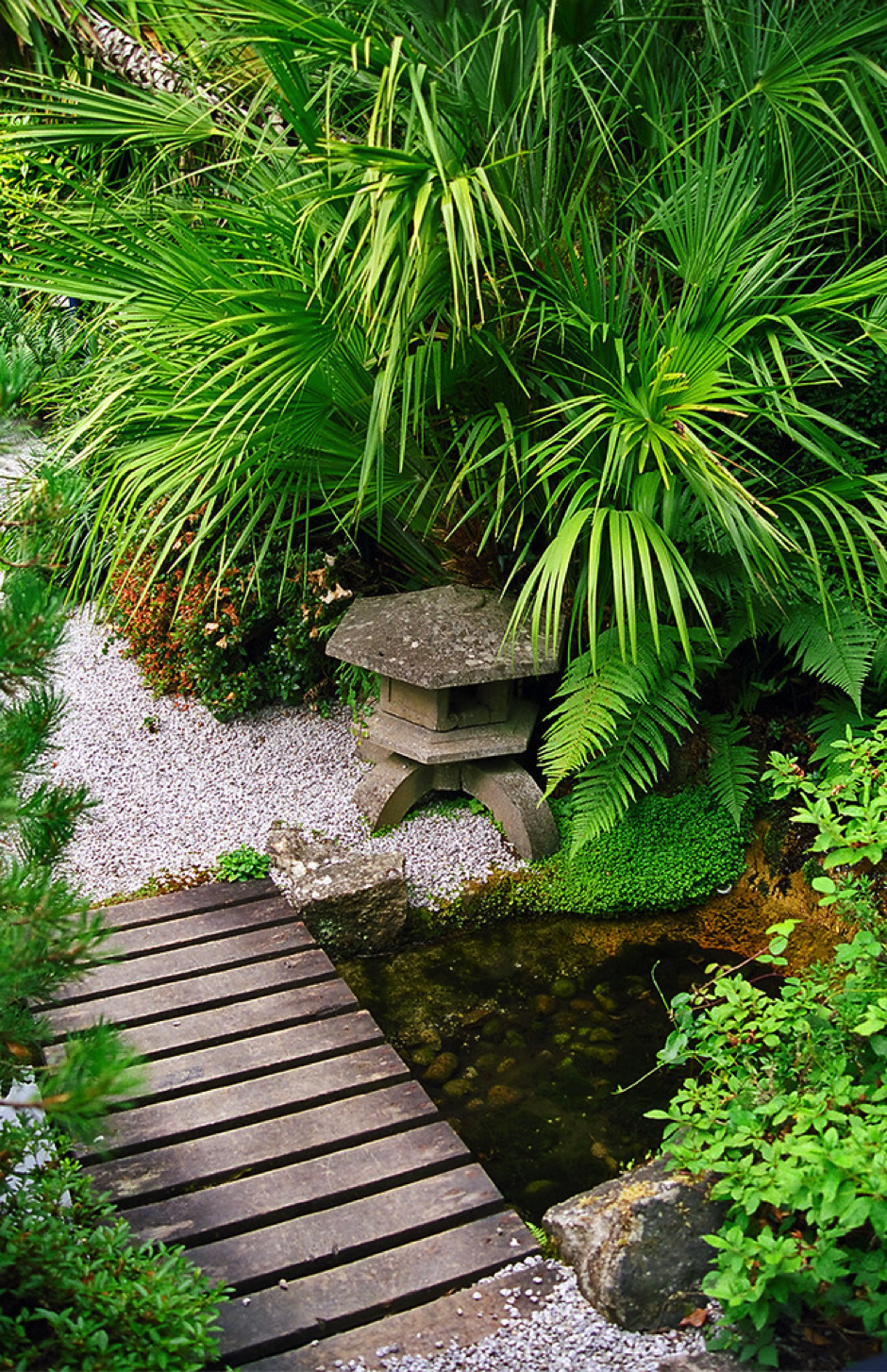 Trebah Garden
Across the bay near Falmouth lies another sub-tropical wonderland – much loved, Trebah Garden which has flourished by the Helford River for over 180 years.
Family and dog friendly, this Cornish valley garden is on a large 26-acre size with 4 miles of footpaths and even has its own secluded river beach!
The garden has a coastal backdrop, with canopies of exotic plants that are in full flower throughout the growing season. Springtime sees a display of magnolias, rhododendrons, and camellias, while Summer is the time for giant gunnera that towers high above the ground with its colossal leaves! And then comes the turn of the hydrangeas which fill the valley with pastel blue and white blooms in autumn. Trebah is quite spectacular whatever the season!
There are many secret corners to explore, such as the Bamboozle – a maze of 47 different species of bamboo reaching 10 meters tall! And children can burn off some more energy in the adventure play areas and kids' trails.
At the very heart of Trebah is a peaceful water garden that has been built around the site's natural spring. Flowing downhill through a series of pools and over steep cascades, the stream winds its way through lush planting – nurturing the gardens and its special plants.
And don't miss 'Alice's Seat' – a gorgeous, thatched summerhouse with cob walls. Surrounded by fragrant flowers, this open-fronted retreat is the perfect place to rest and relax while taking in Trebah's flora and fauna.
After all that exploring, you then have the choice of a coffee or ice cream at the Boathouse Café on Trebah's private river beach, or lunch at Trebah Kitchen – an award-winning eatery that uses only local, seasonal ingredients.
Trebah Garden is open every day from 9.30 am and makes a sensational day out for the whole family.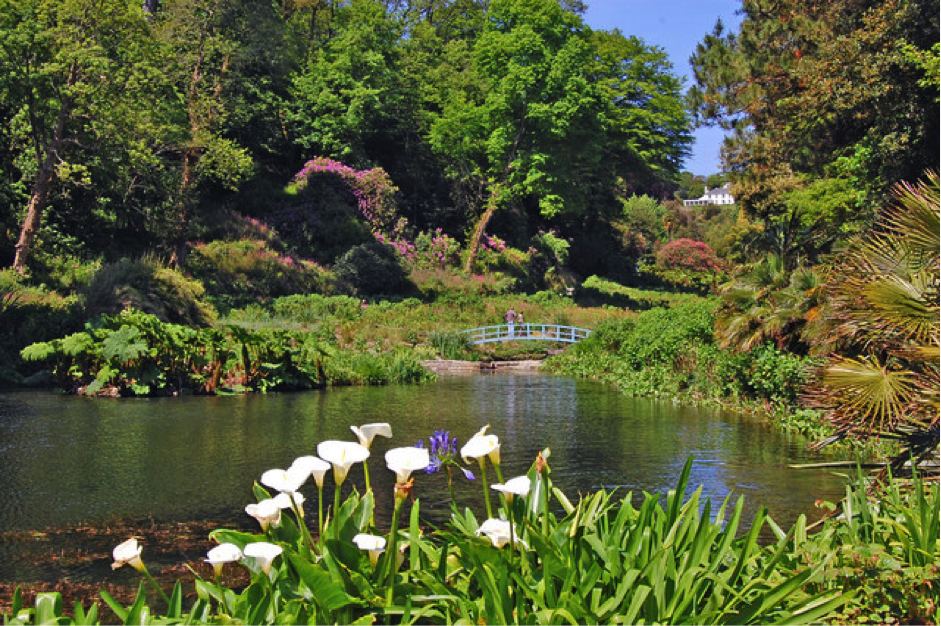 Tregothnan
Did you know that Cornwall is home to Europe's largest tea garden? Amazingly, Tregothnan House and Estate, located on the banks of the River Fal, has become a major producer of English teas, with 26 miles of tea bushes!
The estate lies 6 miles inland and experiences an ideal microclimate for producing a wide variety of goods – such as its prized teas, herbal infusions, fruits, and honey. While not open to the public, you can book a private tea tour of the River Gardens where you'll see rare plant specimens, have the chance to pick tea, and explore a jungle garden. Be sure to wear sturdy footwear however, as this route is steep and uneven! In this tour you will learn about the process of tea making from bush to cup, finishing with a refreshing tea tasting!
As a proud producer of manuka and wildflower honey, Tregothnan also offers Beginners' Bee Keeping Courses – a wonderful chance to learn from the best, in a delightful setting.
The estate has many other strings to its bow – cultivating a great number of rare and endangered tree species, such as the Wollemi Pine and many unusual fruit trees. This is alongside its ancient Cornish apple orchards and even the world's biggest camellia maze!
Tea tours are available by appointment only all year round, and the estate's shop is open to the public from 9 – 5 pm Monday to Friday – an opportunity to sample the produce from this remarkable botanical garden, and also buy homegrown plants and shrubs.
Look out for an upcoming open weekend too – Tregothnan is rumoured to be opening its gates to the public for charity in spring 2024!
Lost Gardens of Heligan
One of Cornwall's most magical places, The Lost Gardens of Heligan are a wondrous combination of subtropical jungle gardens, natural woodlands, and beautiful farmlands.
The 200-acre gardens and estate have all the elements you need for a fantastic family day out – a myriad of exotic plants, fascinating wildlife, and unspoilt beauty that will take your breath away. It truly is the best natural playground for young and old, and you'll be astonished by the global plants that thrive in its exceptional microclimate.
Banana plantations, tropical palms, tree ferns, and sky-scraping bamboo are just some of the plants that make up Heligan's jungle – the UK's only outdoor jungle, with a raised boardwalk and even a 100-foot rope bridge high above the jungle floor.
From a more traditional English aspect, Heligan has a walled garden and a sundial garden – both bursting with colour over the summer months. Plus, a fine collection of camellias and ancient rhododendrons that explode with flowers in springtime.
The estate itself incorporates beautiful Cornish countryside made up of woodlands and farmland. Think wildflower meadows, sustainably managed woodlands with hidden sculptures, and a working farm that rears traditional and rare breed livestock.
In fact, Heligan's home-reared meat can be tasted in Heligan Kitchen the onsite restaurant that also uses fresh, seasonal fruit and veg from its own vegetable garden. So after soaking up everything Heligan's inspiring gardens have to offer, you can tuck into some healthy and hearty food that has been grown and produced in house.
Find your dream St Mawes holiday home at Cornish Keepers and immerse yourself in Cornwall's natural beauty.