Cornish galleries & exhibitions – a stone's throw from your holiday home
Happy New Year from Cornish Keepers!
As it's not quite beach weather yet, and the ratio of sunny to rainy days isn't working in our favour(!), we thought we'd focus this month's blog on Cornwall's glorious art galleries and exhibitions – as there's nothing better than immersing yourself in Cornish artwork on a wet weather day (or a blue-sky day for that matter!)
For over 140 years, since the Great Western Railway was extended into Cornwall in 1877, artists have been drawn to Cornwall for its diverse landscapes and unique natural light.
Today Cornwall is internationally recognised as an art mecca and the artwork of its people is celebrated in an abundance of galleries and exhibitions throughout the county.
We share our top 6 Cornish art destinations that are a must-visit from your Cornish Keepers holiday home.
Tate St Ives
The iconic Tate Gallery sits proudly on the cliff edge, overlooking the Atlantic Ocean in St Ives. One of the UK's 4 Tate Galleries, Tate St Ives displays an inspiring collection of modern and contemporary art and holds regular exhibitions throughout the year. Look out for displays of work by the Casablanca Art School and the American conceptual artist Sol LeWitt – who brings a large, colourful acrylic paint installation to the walls of the Tate.
This world-famous gallery welcomes families and has a rooftop café that makes a lovely pitstop for a coffee or a Cornish cream tea.
Barbara Hepworth Museum & Sculpture Garden
Just a short walk from the Tate lies the former studio and sculpture garden of the late, influential sculptor Barbara Hepworth. Her carvings and bronze sculptures are positioned in the gardens just as she first placed them, in order to preserve the heart and soul of her work.
To find out more about this acclaimed sculptor, you may also like to visit the Barbara Hepworth: Art & Life exhibition at Tate St Ives which runs until 1st May 2023.
Newlyn Art Gallery & The Exchange
Set across two sites – Newlyn Art Gallery and The Exchange (taking its name from the building's former use as a Telephone Exchange) together make up a remarkable artistic hub. This educational arts charity believes that "art can change lives for the better" and showcases the work of local artists – with exhibitions and workshops throughout the year.
Visit the Newlyn Art Gallery & The Exchange website to find out which contemporary art exhibitions are coming up. The We are Floating in Space exhibition running from 11th Feb – 3rd June 2023 has caught our attention, along with the new exhibition for 2023 from painter Keith Woodhouse.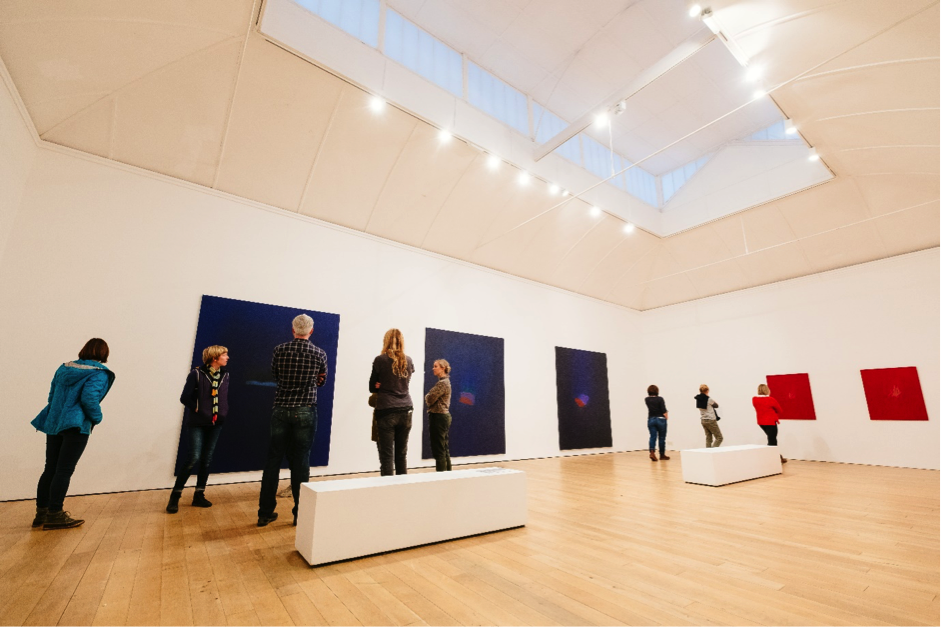 Tremenheere Sculpture Gardens
In a sheltered valley, looking out over St Michael's Mount, you will find Tremenheere Sculpture Gardens. This magical spot is richly planted with exotic, sub-tropical plants and provides a striking backdrop for art created by internationally renowned artists. Think breathtaking sculptures nestled amongst tree ferns, palms, succulents, and bamboo. A harmonic blend of nature and art, that looks beautiful year-round.
Be sure to also pop into Tremenheere Gallery – a stunning oak-framed building on the same site that runs a compelling programme of events and exhibitions, featuring paintings and prints from recognised artists.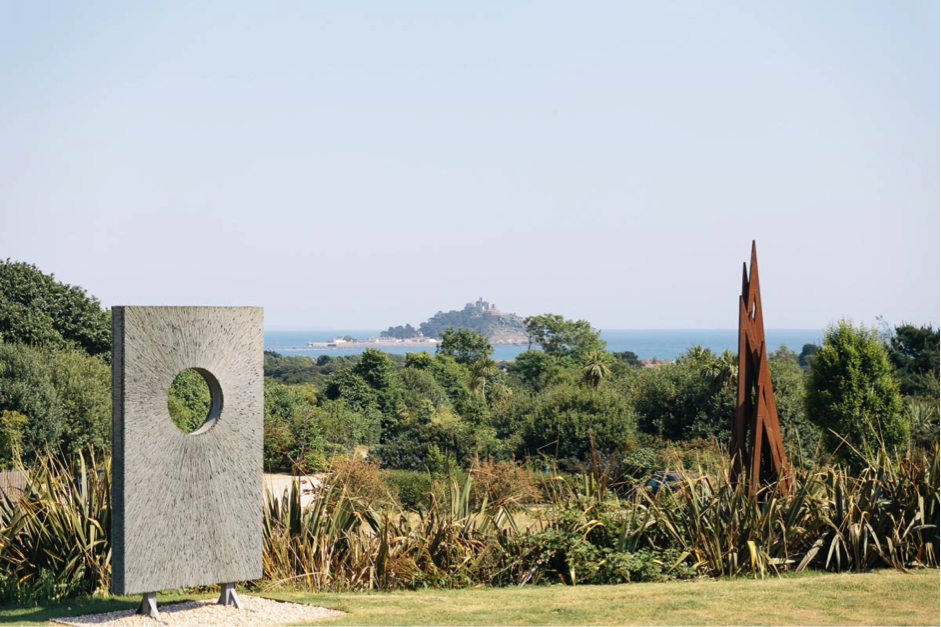 The Customs House Gallery
Plan a visit to the fishing port of Porthleven and call into The Customs House Gallery that you'll find on the harbourside, alongside its own framing workshop.
Light and airy, and open all year, this super gallery holds regular exhibitions of original Cornish artwork. From ceramics to glass and sculptures to paintings, you'll be wowed by work from some of Cornwall's finest artists.
Art at the Beach
Ok, so this one's possibly for fairer weather, but we couldn't bear to leave out Art at the Beach art lessons by Jeanni Grant-Nelson!
Professional artist Jeanni teaches students of all ages and abilities to develop their own painting style, and explains how to sketch, paint, and understand perspective – all from the sands of Mawgan Porth beach! Apparently, past students have been astonished by the pieces they've created! How special to have some self-painted wall art to remind you of Cornwall.
We hope these arty ideas come in handy next time you're looking to explore Cornwall. It really is a treasure trove of art that is waiting to be discovered.
Book your stay at a Cornish Keepers luxury holiday home – the perfect base for every Cornish adventure in 2023.